AOGS Axford Medal Award Recipient
2015 - 2016
Professor Harsh K. Gupta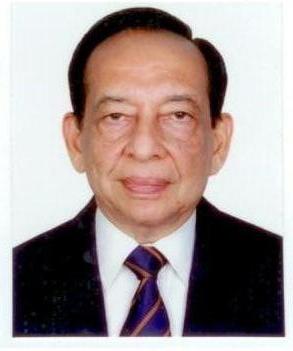 The Asia and Oceania Geosciences Society (AOGS) is privileged to present the 2016 Axford Medal to Professor Harsh K. Gupta for his outstanding contributions in geosciences. He is internationally known for providing the first evidence of an abonormally thick crust below Himalaya and Tibet Plateau region; characterizing artificial water reservoir triggered earthquakes and developing criteria to discriminate them from normal earthquakes and spearheading the setting up of the Indian Tsunami Early Warning System. He has been an institution builder and has provided exceptional global leadership in Disaster Management.
Professor Gupta has served as a Member of the National Disaster Management Authority of India (Status: Minister of State of Government of India, 2011-2014); Secretary to Government of India, Department of Ocean Development (2001-2005); Director of the National Geophysical Research Institute (1992-2001); Vice Chancellor, Cochin University of Science and Technology (1987-1990); Adjunct Professor, University of Texas at Dallas, USA (1978- 2001). He has been a visiting professor at a number of universities in Europe and USA, Adivisor/Consultant to UNESCO, ICSU, IAEA, Common Wealth Science Council etc on several occasions. Professor Gupta was the Leader of the 3rd Indian Scientific Expedition to Antarctica (1983-1984), which succeeded in setting up a permanent base station for scientific research in a record time of one Antarctic Summer, against very heavy odds. He was the Chair of the Steering Committee of the Global Seismic Hazard Program (G-SHAP), an UN initiative, where some 500 scientists worked globally to develop the Global Seismic Hazard Map (1992- 1999).
Prof. Gupta has authored over 200 scientific papers, 5 books (published by Elsevier and Springer), and edited 21 volumes. His first book, 'Dams and Earthquakes', published by Elsevier in 1976 was translated into Russian and Chinese languages. Prof. Gupta compiled and Edited 'Encyclopedia of Solid Earth Geophysics'. This monumental 1500+ pages two volume treatise, published by Springer, is a landmark.
Professor Gupta has exceptional leadership skills and ability to build major programs in geosciences globally. This has been demostrated by his being the Founder President of the Asian Seismological Commission; Vice President of IASPEI; Vice President and President of AOGS and IUGG; a member of Committee for Science Promotion and Review of ICSU for two terms; Member of Executive Committee of IUGS; Chair, Science Planning Group on Hazards and Disasters for the Asia- Pacific Region; Life-time Bureau Member of ILP. Under his Presidency of AOGS, an AOGS-AGU Joint Assembly was held at Singapore in 2012 for the first time and was very successful. During June-July, 2015 he presided over a very successful IUGG General Assembly at Prague, Czech Republic, with ~ 6000 participants, where several new initiatives specially for young researchers were undertaken. After the occurrence of the devastating December 26, 2004 Mw 9.2 Sumatra earthquake and the resultant tsunami that claimed over 250,000 human lives in south and south east Asia, Prof. Gupta spear headed setting up of the Indian Tsunami Early Warning System, which was completed in just 30 months' time. This is now considered to be among the best tsunami warning systems globally.
Professor Gupta's leadership and scientific contibutions have been recognized by the fellowships of Science Academies in India, and The World Academy of Science (TWAS). He is a Fellow of American Geophysical Union. Several national and international awards won by Dr. Gupta include the prestigious "Padmashri" award which is among the highest civilian honors of India; the Waldo E. Smith Award Medal of the American Geophysical Union; and the "100 Year of International Geophysics" Memorial Medal of USSR Academy of Sciences.